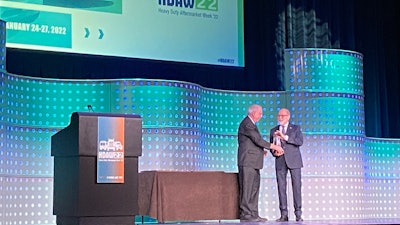 Tim Kraus was inducted to the Heavy Duty Aftermarket Hall of Fame Tuesday during the opening general session Tuesday at Heavy Duty Aftermarket Week (HDAW) in Grapevine, Texas.
As longtime president and COO of the Heavy Duty Manufacturers Association before retiring last year, Kraus led the development of the first ever HDAW and helped shepherd and grow the aftermarket's largest event for more than a decade.
Before joining HDMA, Kraus worked for multiple industry suppliers and from 1992 to 2002 served as a member of the HDMA board. He was a two-term chairman of the board before being recruited to join HDMA full time in 2004. He is the 16th person elected to the aftermarket's hall of fame.
Kraus was inducted Thursday by Marc Karon, last year's Hall of Fame inductee and president of Total Truck Parts.
"I was floored when I was informed of my selection of this honor. I want to thank the Hall of Fame nominating committee," Kraus said Tuesday in his acceptance speech before joking "it feels like Homer Simpson just won an Emmy."
Kraus went on to thank his wife and family for supporting him in his career, as well as the members of the 2004 HDMA board who convinced him to take the HDMA leadership role and the association's heavy-duty business forum who served as his longtime advisors. He also thanked his HDMA team members, MEMA colleague Ann Wilson and MEMA CEO Bill Long. 
He concluded his speech with words of encouragement for the industry's next generation. 
"This has always been a relationship industry ... this is what keeps us here. To the younger crowd coming in, please continue to see the industry veterans as a source of leadership coaching. We're all very willing to help."