Earlier this month we announced the finalists for our sixth annual Successful Dealer Award. Nominated by the trucking industry and selected by the Successful Dealer editorial staff, this year's finalists feature one prior award winner, one past finalist and three first-time finalists. Over the next few months, we will be regularly profiling each business in the lead up to our 2018 Successful Dealer Award presentation in October.
Those features began last week, and today we check in with 2018 Successful Dealer Award finalist River States Truck and Trailer.
This is the second time River States Truck and Trailer has earned a nomination for the Successful Dealer Award, winning the honor in 2016. The answers below were provided by the team at River States Truck and Trailer.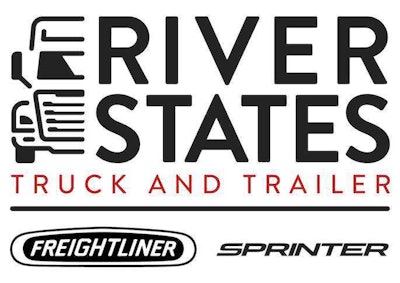 When was your business founded, and by whom?
River States Truck and Trailer was founded in 1972 by Robert "Bob" Frise. Today, River States Truck and Trailer is owned and operated by Frise's former son-in-law, Joe Laux, who took over in 1995.
How many locations do you have?
River States Truck and Trailer has six locations: La Crosse, Wis. – full-service dealership (sales, service, parts, body shop), original location opened in 1972 and moved to its current location in 2001; Eau Claire, Wis. – full-service dealership (sales, service, parts), opened in 1990 and moved into its new facility/current location in 1997; Roberts, Wis. – full-service dealership (sales, service, parts), opened in 2009; Hudson, Wis. – service satellite store, opened in 2004; Duluth, Minn. – service satellite store, originally opened in Superior, Wis., in 2005, moved to current location in 2010; Winona, MN – parts satellite store, opened in 2018.
How many employees do you have?
Throughout all six River States Truck and Trailer locations we employ nearly 200 people.
Please describe the full complement of services offered by your organization?
At River States, we offer a full array of services for our heavy-duty truck customers. We provide new and used truck sales, finance, parts, service and a state-of-the-art body shop. We also offer additional services such as free pick-up and delivery for service and body shop customers, same- or next-day personal delivery for our parts customers. Our customers are our first priority, and our dedication to giving them the best experience possible is well illustrated by our willingness to go above and beyond the standard of other dealers.
However, we are more than just a heavy truck dealership. River States Truck and Trailer is all about people. Whether it's our customers, employees and their families or the neighbors in our surrounding communities; we strive to make a positive difference. River States is committed to making an impact on people and our communities, not only by providing a trusted place of business for customers, but also through community involvement, educational support, leadership, and giving back to many great organizations and worthy causes that reach out to many different people. As we continue to grow our company and improve, our focus will remain on people.
What is your company's value proposition?
River States Truck and Trailer is part of the finest dealer network in the country, and we strive to provide the best product and service to our customers. Within our doors you will find a helpful and knowledgeable staff whose years of hard work and dedication have built a foundation of excellence for the company, its employees and our community.
How do you differentiate your business from your competitors?
We are constantly studying the industry, customers, and the competition to be able to know and predict industry trends and changes. We know the customers and business better than any of our competitors. We proactively engage customers rather than waiting for customers to come to us, so we can find out what is important to them and why. This allows us to better understand their needs and come up with the best solution for them.
Our focus on customer service starts by assembling the best team possible. We believe that ongoing education and training our employees is key to their success. Our employees serve as a resource of knowledge for our customers and can help provide solutions beyond just knowing the product or service. Our team members are bright, talented, and passionate, and we invest significantly in their training and career development so that they can be the best at their jobs.
We are constantly building upon the values of the company and strengths of our employees to provide the best quality service and deliver the best product and present the best solution for our customers so they can easily recognize the quality of our company as well as our demand for excellence. We have cultivated an atmosphere of success and positivity that motivates us to continue giving our customers the best possible experiences, which have earned us the reputation as one of the premier heavy-duty truck dealers.
Why do you believe the trucking industry has nominated your business for this award?
Over the past 46 years, River States Truck and Trailer has proven its place as one of the top Freightliner dealers in the country. As a part of this industry, we have many dedicated and hard-working employees who go the extra mile for people. This award not only recognizes our dealerships as a whole, but also the employees who work behind the scenes to keep the business, our customers, and the trucking industry running. Their performance and commitment is well worthy of this award.