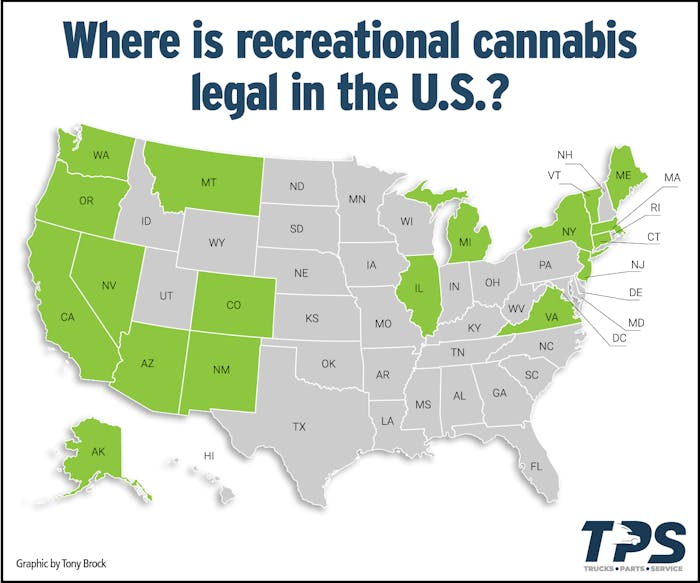 As the number of states legalizing recreational cannabis grows, so too does the headache for the trucking industry in getting potential employees to follow through on the application process —which could involve a drug screening.
"Legalizing cannabis eliminates the criminality of the process, but not the net effect. In fact, it's worse as now people who might not have participated when it was illegal, enjoy it on an occasional basis. They now fail the test, and we can't hire them," says Six Robblees' President Andy Robblee.
Early in 2020, Trucks, Parts, Service (TPS) covered the topic and the situation seemed bad then. At the time of the TPS coverage, 12 states and the District of Columbia had legalized recreational cannabis. As of this summer, the number of states has jumped to 18 plus the District of Columbia. The new states since last year include Arizona, Connecticut, Illinois, New Mexico, New Jersey, New York and Virginia.
Help wanted (please)
Clearly, Robblee is no stranger to the problem as he is in the thick of it. Six Robblees' has locations in seven states, five of those states have legalized recreational cannabis.
It should be mentioned that it's unlikely Six Roblees' isn't the only company in the trucking industry to face a similar plight, but the company is certainly on the front lines and its problems and possible solutions are worth considering.
"Hiring is still as difficult as ever. There are now just a few more hurdles employers must overcome to find talent. Recreational cannabis is a booming industry — meaning many people are using [cannabis]. The pool of talent left, who don't use cannabis, who are looking for jobs, who would be willing to work as a warehouse stocker or driver is very small," Robblee says.
At the start of 2021, Montana legalized recreational cannabis, further surrounding Six Robblees' area of business. Robblees says the company is looking for potential employees in its Great Falls location, which is in the northern part of Montana.
[RELATED: Being blunt about the industry's recruitment challenge]
"No applicants [in Montana]. We are hoping now that the extra stimulus for unemployment has ended in the state, somebody might be out looking for a job. I guess that's a long answer to saying a hard job just got harder with the new legalization in the state," he says.
Legalized cannabis has been such an issue that American Transportation Research Institute (ATRI) will further study the effects of many aspects of the trucking industry.
"ATRI's Research Advisory Committee identified the marijuana topic as one of the top priorities for 2021 given the number of states that continue to decriminalize marijuana," says Rebecca Brewster, ATRI president and chief operating officer, American Transportation Research Institute.
"In updating our 2019 study, we'll not only be looking at roadway safety impacts in those states that have decriminalized marijuana, but we'll also be examining specific workforce impacts in the trucking industry, including drivers, technicians and office personnel," Brewster says.
Is there a solution?
One such solution, an early-stage approach, is warning students at technical school programs.
"It's a huge problem. We preach 24/7 you will be drug tested on Day One [at the workplace]," said Timothy Spurlock, president and founder, American Diesel Training Centers, during the Q&A portion of a session, "Tackling the Talent War: Recruiting Good People," at 2020's Service Opportunities Learning Days (SOLD) during Heavy Duty Aftermarket Week.
[RELATED: The aftermarket, dealer channels continue hunt for qualified employees]
CEO Mike Betts said Fresno, Calif.-based Betts Company conducts employee drug testing, "and I believe a great majority of the companies drug test and they're going to continue to.
"People need to know if they're going to be working on vehicles, lives are at stake [including the technician's]; they need to be clean," Betts said during the SOLD session. "Our instructors at the high school programs are adamant about that with the students."
Robblee says his company has a permanent hiring ad running and Six Robblees' need more counter sales and/or warehouse people. He adds the company has been filling as many positions as possible with in-house promotion, but he admits the company definitely needs to refill the talent pipeline.
"We are looking at how to do the job differently. If we need X number of people in an area that is difficult to get employees, can we move some of that work to other areas?" asks Robblee.
"We are looking at moving away from the large hub/spoke delivery method to a series of regional hub/spoke warehouses that can be operated with fewer employees. Not as efficient, but keeps us in business," he says.