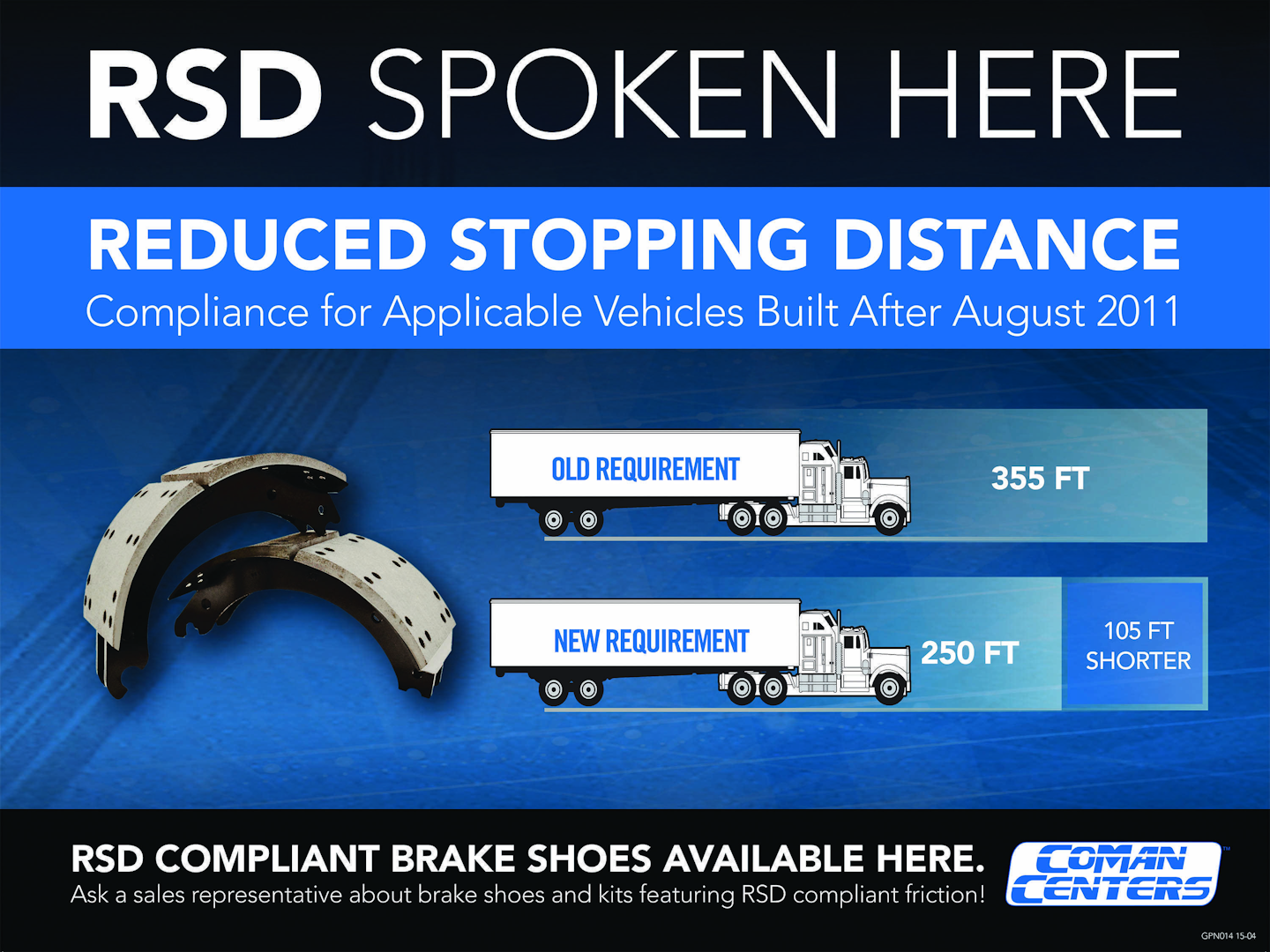 Global Parts Network has launched an awareness program to promote the National Highway Transportation Safety Administration (NHTSA) Reduced Stopping Distance (RSD) requirements.
According to GPN, the campaign provides tools for distributors to help enhance the knowledge of their customers on RSD regulations which were rewritten in 2009. NHTSA amended the Federal Motor Vehicle Safety Standard on air brake systems (FMVSS No. 121) to help improve stopping distance for truck tractors. The amended standard required most new heavy-duty tractors to achieve a 30 percent reduction in stopping distance by two compliance dates: Aug. 1, 2011 and Aug. 1, 2013.
Since the regulations were put into effect, GPN says more than one million Class 8 truck builds have been completed, with many of those trucks now due for brake maintenance.
"Many RSD-equipped vehicles on the road are approaching the timeline for required maintenance, making it critically important for the industry to understand RSD regulations and the suggested practices for brake material replacement," says Jay Pagano, director of business development, Global Parts Network.
"Relining brake shoes with non-RSD compliant friction can reduce a vehicle's stopping distance performance, leading to longer stopping distances and potentially compromising safety. To avoid such problems, we highly recommended replacing brake friction material with RSD friction material that maintains the shorter stopping distance to meet FMVSS 121 stopping distance requirements."
GPN offers remanufactured brake shoes and shoe kits featuring RSD friction material that was developed by the same R&D teams utilizing the same technology and manufactured in the same plants as the OE reduced stopping distance formulations, the company says.
Pagano points out that GPN is diligent about the materials used in its products and the processes it follows.
"We clean, coin, coat, and cure the highest-quality remanufactured brake shoes in our two U.S. facilities under the strictest standards of quality and environmental control," he says. "These exacting processes and GPN's partnership with the industry's leading fiction suppliers, enables us to offer innovative products to meet the needs of our distributors and their customers."
For more information the campaign, please visit www.globalpartsnetwork.com.