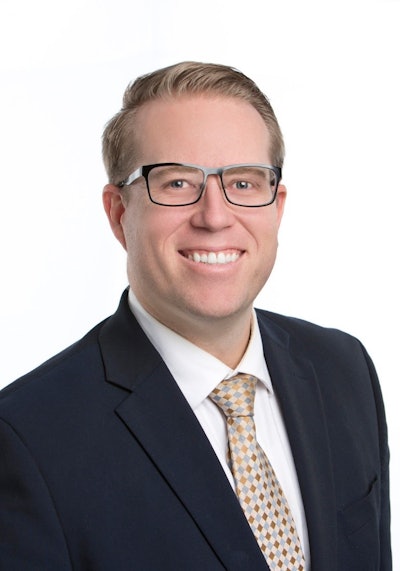 Three months ago the Heavy Duty Manufacturers Association (HDMA) announced Collin Shaw as its newest president and COO. With 15 years of supplier experience across the automotive and heavy truck marketplaces, Shaw came to HDMA from ZF Group, where he was responsible for North American business strategy. Shaw also spent more than four years leading a variety of heavy-duty teams at WABCO (before the company was acquired by ZF) and also spent the first eight years of his career at FCA (now Stellantis) where he served in multiple brand management roles, including the global rollout of the Jeep Grand Cherokee.
Since taking over at HDMA on March 18, Shaw has been busy building out his new team, establishing his goals for HDMA's next chapter and consistently connecting with his new member constituents. Last week, Trucks, Parts, Service sat down with Shaw to learn about how he believes HDMA can evolve to better serve its member companies, the most important issues facing the supplier community and the importance of networking and engagement in the commercial vehicle sector.
TPS: What brought you to HDMA?
Collin Shaw: As ZF completed its merger of WABCO, I moved into a corporate role as a director of business strategy for the Americas. I did that for about seven months then I got a call from Bill Long about HDMA. The offer was really compelling; I would get to come back to commercial vehicle where I had worked at WABCO. The corporate opportunity at ZF was a mix of commercial vehicle and passenger car. I really liked the opportunity to come back to commercial vehicle. I jumped at it. It was a great fit and a great opportunity.
I had heard there was an opening. I got a call from a recruiter and thought 'I'll put my name in the hat,' and then I got a call from Bill. I never really had considered association life — I'd always worked for suppliers — but the more we talked about it, the more intriguing it sounded.
What's your favorite aspect of the heavy-duty supplier industry?
For me it was always the opportunity to make a difference in the industry; to be able to be out there talking to people. I've found in the heavy-duty industry those opportunities are very plentiful. The connections I've made with people were really what kept me here. We work together and do business together and I find that opportunity unique to commercial vehicle. Really as soon as people jump into our industry, there are opportunities to get involved in the larger industry. Passenger car has less of those opportunities to be involved in the broader industry.
Also in commercial vehicle the supplier community is really relied on. They are looked at as partners with the OEM and I found that very unique.
What are your top priorities for your first year leading HDMA and how do you intend to achieve those goals?
A couple priorities. Internally we have to make sure we continue to have a strong team. I have great people who work around me. We are bringing on some new people in 2022. That's what we're working on right now and over the next month, making sure we have the right team and the right people. So much of what we do is relationship based and so much of what we get done is because of the people who work at HDMA. So that's one of my first priorities.
The other thing is looking at our content and our programming. Obviously, we have HDAW and HDAD, which are a big part of what we do and we have to make sure those shows continue to go off as planned and people see success there. But we also want to expand our content and reach a little bit further into member companies. We have a lot of councils around sales, executive leadership and technology that I would like to see us expand into our business processes in our member companies. Bringing together manufacturing professionals, purchasing and supply chain, finance. These are areas where they also can use the networking that HDMA provides.
[RELATED: Catching up with new ATD President Laura Perrotta]
Frequently the most important part of our association for members is the networking and connection with other people in the industry. Driving further into member companies and getting more business processes and bringing those people together is another area I really want to focus on in the near term.
The other area is making sure from an advocacy standpoint — Ann Wilson in our Washington, D.C., office does a tremendous job and she's very respected — as we build our team we can help to support Ann and drive the members' agenda.
I don't know that a lot of people know we have all our councils and forums. I think a lot of people associate us with HDAW and HDAD, but our leadership council and sales executive and technology councils are very well received by our members. We have some members that have been a part of them for years. The content we bring is valuable; we have trucking executives, CEOs of OEMs and fleets who come and talk to our members and share where the market is going, what are they seeing and how suppliers can help them.
Why is HDMA an essential association in commercial transportation?
The vision and mission of MEMA, our parent organization, is to advance the business interests and help create and foster a profitable supplier community in vehicle manufacturing. A lot of our members are actually smaller companies. We have a lot of large companies too, but a good majority of our members are smaller companies and they may lack the resources to have people in Washington, D.C., or to bring people together for research, council, events, etc. We offer them a voice where they need to be heard — whether that's in Washington, in our industry or with customers. Being able to bring together that community and provide that ability to network and to discuss our industry and provide advocacy is really where we provide value.
Additionally, insights that we have into the market, such as our quarterly barometer that talks about what's happening in the market, or our Pulse webinar series that we provide as a free service to our members … with these tools they don't have to go and invest in those solutions from other areas. They can come to us and we can help them out. We provide a very good and cost-effective way for our members to have a voice in Washington, to provide good research and insight and to network and connect with one another.
Why do you believe advocacy is so important for commercial vehicle suppliers?
I'll use one recent example, the ruling going into effect later this month regarding imports from the Xinjiang province in China related to forced labor. That was an area where we've been working hard to communicate with our members because many of them just weren't aware of what's happening over there. That was very quickly an area when I started where I saw we were providing value to our members. We sent out a release to our members informing them of what was happening and told them to do a little research on it and be prepared, and to contact us if they had any questions. Immediately I had some of our members reach out and they said they had no clue this was happening. It's those kinds of things, by having a presence in Washington, D.C., we can support companies that are smaller that are not going to have that visibility.
During our advocacy month we also had representatives from the White House talk about what's happening at the ports and some of our members were able to voice their concern. Having the ability to access those kinds of people is really something unique we provide to our members.
How will you leverage your prior career experience in your new role?
That's a great question. Coming out of the supplier world I've seen quite a bit. I remember trying to forecast truck volumes at WABCO in March and April of 2020 and we were forecasting a bloodbath — 120,000 Class 8 units being produced for the year. Then come August everyone was trying to come back online and business had never been healthier. I have that perspective of what it's like for the supplier community when you're being squeezed on both ends. Now raw materials are going for a ride in the commodities market and OEMs are trying to get as many trucks out the door as possible. The supplier community takes a front and center position to make sure vehicles get shipped and stay on the road.
I think having that unique perspective of what it's like in the supplier community today, as they are trying to source commodities and feed into the OEMs, mean I'm able to help plan and coordinate our content appropriately for the suppliers. Also as I sit in on meetings, I'm able to voice to what I saw [at WABCO and ZF] and share that I understand their challenges. I don't think I could do this job without having been in the shoes of a supplier. They are trying to balance how to plan for the future while also decide how to navigate the issues of today and that's a delicate balance. I think having that experience allows me to help create content that is meaningful and valuable for our members.
How do you intend to develop relationships with your members?
One way is through our councils and forums. Each of those is led by a board of governors who help develop content and they are all leaders in our industry. From the very beginning I've tried to get to know them better — I knew a few of them already from my previous work — and have been attending the forums and councils and working with those leaders to meet the rest of our members and understand their issues.
We're also working through social media to build our presence to make sure people know what HDMA does and the people behind HDMA. And then, honestly, a lot of it is just hard work and the grind. Hitting the road and trying to meet as many people as I can. Fortunately, I have a great team who help with a lot of the member operations who I want to bring a bit more front and center so people know them and know who they can go to when they need anything.
How vital is supplier collaboration to HDMA success, and how to you intend to motivate supplier engagement in HDMA?
When we look at the research, collaboration and connection is one of the key reason suppliers continue to invest in HDMA. They get a view on what's happening within the rest of the industry. They get to see how others are tackling very difficult problems.
HDMA gives them the ability to address problems and think about how we can tackle them as an industry. Whether it be future opportunities or current issues — having open conversations allows everyone to see things from different points of view. All of our suppliers bring a different perspective when talking about issues and it's that collaboration that helps keep HDMA going.
Are there any specific issues facing commercial vehicle suppliers HDMA has not previously addressed that you intend to prioritize?
For me there are a couple areas. We really have to double down on our advocacy work and supporting Ann and her team. I think that's a clear area where our members want us to go, to really support that team in Washington, D.C., and know how to strategize and focus for our members.
Another area is making sure when it comes to EVs and autonomous driving, that all of our members have access to information that allows them to create a roadmap. We have some suppliers who are strictly focused on the aftermarket, and others who are focused on technologies that you may not directly associate with those advancements. Take a seating supplier as an example. People may not think they are directly connected to autonomous driving and EVs, but they are affected. It's about making sure we recognize we know where the industry is heading and give our members some tools for how they plan for their business, or transform their business, to be successful.
What excites you the most about the future of the commercial vehicle industry?
What's so exciting is what we are going to see happen in the next ten years. Over the last few years people have seen how vital our industry is to the health of the nation. Previously, I think commercial vehicles and transportation were a little bit in the background — nobody really thought about where their stuff came from — but now it's very much in the forefront. We're starting to see how people think about transportation supply chain. Ushering in not only new technologies but a new generation of people coming into the commercial vehicle industry, I am incredibly excited about that. To be able to lead our industry and talk about it and bring those changes and transforms forward.
I'm incredibly optimistic about our industry and the value we can provide society, and to help accomplish goals such as sustainability and making our roads safer.
I would also say if people have questions about HDMA and how we can help, never hesitate to reach out to me. If there's a problem that you're looking to solve, or you want to be engaged, please let us know.