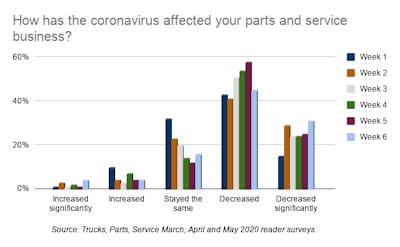 The Trucks, Parts, Service reader survey on business conditions related to COVID-19 returned this week to show substantial optimism among parts and service professionals as the North American trucking industry enters its third month battling the economic challenges posed by the pandemic.
Sentiment in the dealer space was much more pessimistic, as new truck and trailer dealers face the lowest order totals on record.
The regular survey, which was altered from a weekly to biweekly format earlier this month, was completed by 139 professionals in the independent aftermarket, dealer and OE supplier spaces from May 12 to May 21.
In the parts and service space, most responders acknowledged business remains down from the levels seen pre-pandemic but that sales have begun to increase in recent weeks as states begin to reopen and freight volumes slowly start to rise. In total, 76 percent of responders said their parts and service sales have fallen since March — lower than the 83 percent who responded to our most recent TPS survey — and a third now expect their sales to increase (30 percent) or increase significantly (3 percent) in the month ahead. That optimism was steady across reader segments as well, with 32 percent of aftermarket operators, 32 percent of OE suppliers and 35 percent of other responders all predicting a stronger month ahead.
"Parts and service has decreased less than we expected," said one responder. "While we have not met our target numbers, we are running less than 10 percent behind last year." Another responder added his decrease was less than expected, "in the 5 percent range" compared to the same period last year, while a third stated "the last couple of weeks our business has picked back up toward where we were pre-coronavirus."
When asked about which segment, parts or service, has been hit harder on total sales, 39 percent of responders said the two segments have been equally damaged, while 31 percent of responders said parts and only 11 percent said service. Another 19 percent said both segments remain strong.
That positivity was found in other survey questions related to the parts and service market as well.
In our question asking responders to rank business conditions this week on a 1 to 10 scale, (with 1 being the worst week ever and 10 being the best), responders pegged the dates from May 12 to 21 as a 4.93 on average. That was a major increase over the 4.1 average recorded in our last survey.
Looking out even further, responders pegged the week ahead at 5.21 and the month ahead at a survey-best 5.85. An overwhelming majority of parts and service responders also were optimistic about Q3, with 62 percent of overall responders expecting sales increases and only 17 percent expecting sales to fall.
"The shock of coronavirus has somewhat settled and we expect as the numbers have shown to start to trend upward," one responder said. Another added, "We can only hope. Our economy was doing so well when this happened it may be what saves us."
But responders also note the industry isn't out of the woods yet. Not so long as the virus is still out there.
"We expect some deferred repairs to be performed as lockdown requirements are loosened up, but the overall picture will probably be depressed through summer. If there is a resurgence of the virus, the winter months could be dismal," said one responder.
That cautious outlook was more common among equipment dealers, who face an uphill battle for the rest of the year.
Only 3 percent of new truck dealers responding to our most recent survey said their sales have increased since the outset of the pandemic, while 80 percent were down. Trailer sales were worse. Not a single responder to our survey has grown their sales since the virus hit and 67 percent said business was down.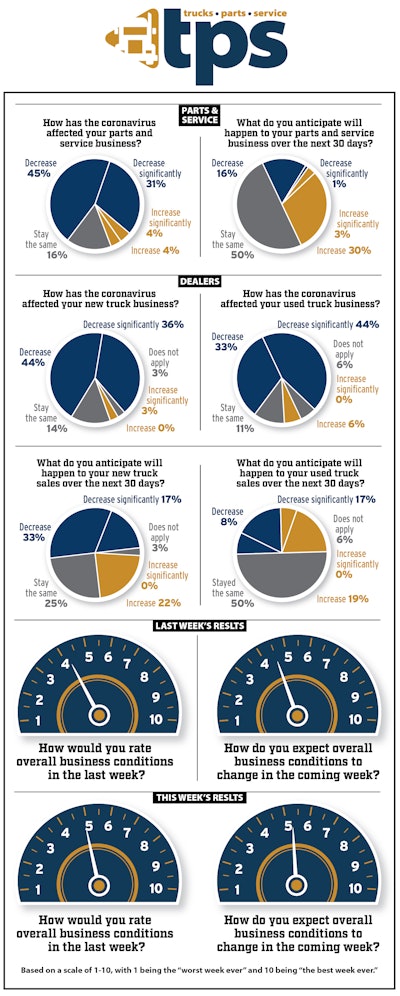 While falling freight and load totals are unquestionably the largest drivers of the sales losses, dealers also note factory shutdowns have likely forced some fleets who still need trucks into the used truck market — which thus far has avoided collapsing during the pandemic.
"We believe buyers who couldn't get one and/or groups of trucks built due to factory shutdowns have turned to looking and purchasing groups of used trucks with spec's close to what they wanted in a new truck to tide them over and save money when they need to watch their budgets," said one responder. Another noted because of plant shutdowns, "even the trucks we have sold cannot be delivered."
But used truck sales, while better, are hardly booming. Only 6 percent of responders to our survey said their used truck sales are up since March (7 percent for used trailers) with another 11 percent claiming sales have been steady (20 percent for used trailers).
Fortunately, both the new and used markets show more encouraging signs when looking at the weeks and months to come; 22 and 47 percent of new truck dealers expecting sales to increase in the next month and during the third quarter. Used numbers are similar at 19 and 44 percent, respectively. Only 13 percent of trailer dealers expect new and used sales to rise in the month ahead but they're a bit more optimistic for the third quarter at 27 percent.
In ranking business conditions on the 1 to 10 scale, dealers pegged our survey period at 4.33 and predicted the week ahead at 4.9 and the month ahead at 5.3.
Finally, this week's survey also featured a new question asking responders to define what will be the biggest lasting change or challenge to the trucking industry as a result of the pandemic. Several illuminating responses were presented.
Many responders noted social distancing and sanitizing of equipment and spaces are likely here to stay, while the adoption of virtual communication and less direct interaction with customers seems probable for the industry for the immediate future.
One responder noted video conferencing tools "have proven to be effective and the cost savings generated by the telecommunication-transportation trade off are real and substantial. We now know we can have a training session or a management meeting remotely. It works and saves time and money."
But a dealer responder noted, "We have lost forever a bit of the personal experience. More and more digital communication, in my opinion, takes away from the selling yourself aspect and makes [business] more of a commodity transaction."
Another distributor responder agreed.
"I believe there will be a subtle shift to towards convenience and ordering online when applicable. It will be up to all distributors to address the convenience issues and remain relevant to their customers. We can no longer think that business will be the same, we will need to find ways to compete."