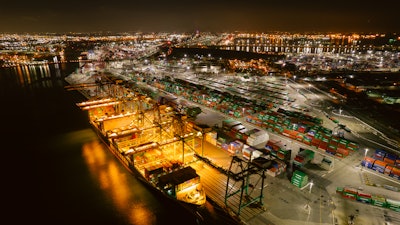 In a little more than a week, the current contract of the International Longshore and Warehouse Union (ILWU) with the Pacific Maritime Association (PMA) is set to expire.
Let's hope it doesn't (or at least it doesn't lead to any work stoppages). The last thing our supply chain needs right now is another setback.
As the official union of dock workers at 29 shipping ports across California, Oregon and Washington, the ILWU handles more than half of the goods imported into the United States by sea each year. Over the last year in particular, the ILWU and its port employers have earned a central role in the restoring of America's fractured supply chain.
Now, with port outputs approaching their highest levels in two years and container dwell rates at some facilities finally in nearing pre-COVID norms, ILWU's contract negotiation stands as potentially the last big hurdle toward normalizing port throughput once again. And while ILWU failing to reach a contract with the PMA before next Friday will not immediately lead to a shutdown at West Coast ports, every day negotiations stretch in July increases the potential of an unforeseen issue arising.
Volvo Trucks and John Deere both experienced production delays over the last two years due to extended union negotiations. It is in the best interest of anyone shipping through the West Coast that our ports don't experience the same.
For what it's worth, experts following the negotiations remain optimistic. ILWU and PMA spokespeople told Logistics Management last week that though they are "unlikely to reach a deal" by July, they are hopeful a strike or lockout will not occur.
"This timing is typical, and cargo operations continue beyond the expiration of the contract. Neither party is preparing for a strike or a lockout, contrary to speculation in news reports. The parties remain focused on and committed to reaching an agreement," the organizations told Logistics Management.
Additionally, at this month's CVSN Aftermarket Distribution Summit, Port of Los Angeles Deputy Executive Director Mike DiBernardo told the audience he anticipates the two sides will reach an agreement in advance of any work stoppage. DiBernardo said the spotlight shone on port operations since COVID-19 shutdowns have brought the facilities unwanted attention but they've also helped to spur productivity. Container dwell times at the Port of Los Angeles have been sliced in half since their 2021 peaks, he said, and the number of ships in the ocean waiting to dock is down 71 percent from January.
DiBernardo said all aspects of port operations deserve credit for this uptick in efficiency and would benefit from it continuing. Dragging out a contract negotiation when so many Americans and businesses are desperately waiting on sea cargo would not be a good look and would ruin the impressive story the ports have written to date in 2022.
There's no question the OEM and aftermarket channels want port operations to remain intact.
Raw material and component availability has held firm as the first or second largest concern among Heavy Duty Manufacturers Association (HDMA) Pulse survey responders all year. Even with inflation now dominating most economic headlines, the supply chain remains very much a work in progress.
So, here's hoping these port negotiations end sooner than later. I know the adage is "no news is good news," but if we get to mid-July and a new contract hasn't been signed we might be in for a difficult third quarter.