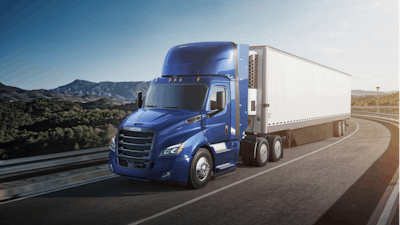 SelecTrucks has expanded component coverage and a new warranty concierge program, administered by Fleetrock, to enhance its industry-leading 60-Day Buyer's Assurance coverage.
Select Limited Warranties are zero deductible with no aggregate limits and include unrestricted progressive damage on covered components. They are available up to 48 months, 400,000 miles and are backed by the strength and reputation of Daimler Trucks North America, maker of Freightliner and Western Star trucks. SelecTrucks says its 60-Day Buyer's Assurance coverage is included with every Select Limited Warranty plan and provides added confidence for those first months of used truck ownership.
The 60-Day Buyer's Assurance component coverage has been expanded to include:
After-treatment system control modules and diesel exhaust fluid lines.
Detroit Assurance cameras and radar sensors.
Detroit DT12 clutch actuator and shift controller.
Powertrain harness and powertrain sensors.
In addition to the expanded component coverage, SelecTrucks' 60-Day Buyer's Assurance now includes Fleetrock after-sales support. SelecTrucks says Fleetrock is a leading provider of fleet management solutions and will provide SelecTrucks customers with around-the-clock after-sales support for their first 60 days of ownership including warranty concierge service.
"SelecTrucks is committed to providing our customers with the highest quality used trucks on the market, and to supporting them with the most comprehensive after-sales support to meet their business needs," says Mary Aufdemberg, recent president of Daimler Trucks Remarketing. "We understand the importance of the first months of ownership for used truck buyers and are proud to enhance SelecTrucks' 60-Day Buyer's Assurance program with expanded component coverage and the addition of Fleetrock's warranty concierge service program for additional peace of mind."
"The SelecTrucks and Fleetrock partnership is a great match as customer confidence and value are at the heart of both our companies," says Joe King, president, Fleetrock. "We are proud to enhance the already notable 60-Day Buyer's Assurance coverage from SelectTrucks by offering our best-in-class support to our mutual customers whenever, and wherever, they need it."