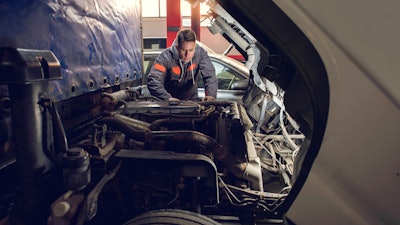 A large majority of heavy-duty truck technicians don't have a clear picture of what their career path is at the companies where they currently work, according to the recently released State of Diesel Technicians report, produced by Trucks, Parts, Service parent company Randall Reilly and sponsored by Shell Lubricant Solutions.
While there are techs who likely are satisfied with where they are and what they do every day, assuredly there are technicians who do want to grow and advance their careers.
Only 24 percent of respondents said they have a clear career path at their current employer, down from 29 percent when the survey was conducted in 2018. Furthermore, 18 percent said a career path exists, but it's not clearly established by the employer, which is down 6 percentage points from 2018. Another 20 percent of respondents said someone would need to leave or retire for them to advance, matching 2018 results.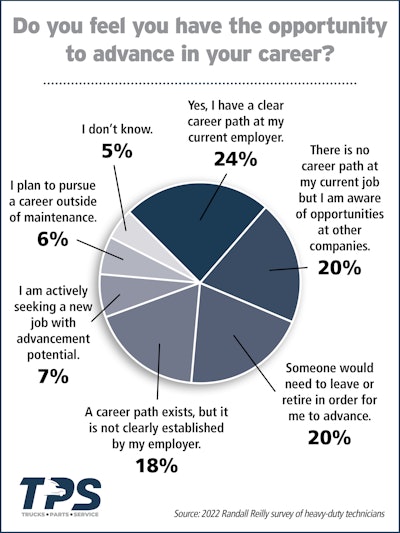 What could be alarming to employers is, in the 2022 survey, 20 percent of respondents said there is no career path at their current job, but they are aware of opportunities at other companies. That percentage is up 7 percent from the 2018 survey.
That one in five technicians are unclear about their own career trajectory but are aware of competitor paths should be alarming to anyone with a service bay. If a technician feels that way, there's no telling how loyal they are likely to be long term.
Only 7 percent of responders to our 2022 survey indicated they are actively seeking a new job with advancement potential, but just because a technician isn't actively looking to leave an employer doesn't mean they are satisfied in their current role.
That said, most service providers having success retaining technicians have some type of career path development program.
Stone Truck Parts has job descriptions for three different levels of technician based on skill, with a different pay grade tied to each one. Technicians can move up a level based on their technical expertise and labor productivity, says Partner Don Purcell.
The size of the organization, though, certainly plays a large part in tech advancement opportunities.
"We are small enough where there aren't a lot of opportunities for advancement," says Christy Cozby, vice president of operations, Texas Trucks Direct, which recently celebrated 40 years in business. "However, when there have been advancement opportunities, we do try to hire from within. How they work day to day [serves as] an interview for advancement."
On the topic of pay, technicians in the 2022 survey were asked how they are paid and to select as many choices that apply. Just over 85 percent of techs said they are paid hourly, flat rate was 10 percent, 11 percent said they received bonuses, 5 percent said a commission percentage is involved, 4 percent reported an incentive program and 2 percent are part of a profit-sharing program, according to the report.
Stone Truck Parts prefers hourly pay because the company tracks door rate for billable hours — a measure of productivity — and the billable door rate is 80 percent. "For example, a 40-hour work week times 80 percent equals 32 hours times door rate of $125 per hour. Anything we bill out over the 32 hours, technicians receive a percentage," Purcell says.
Cozby says, "At the moment, we have a mixture in our shop; some [technicians] prefer flat, while others prefer hourly. It is all about getting the best out of your people that you can. Sometimes you need to do what works better for the technician in that regard to get the best from them.
[RELATED: HDAW session addresses hiring and supply chain difficulties]
Additionally, a shift is occurring within the industry as it relates to annual pay before taxes, including overtime, bonuses and incentives, according to the report. Heavy-duty truck technician salaries have exploded.
In this year's survey, most technicians, at 23 percent, are being paid $70,000 to $79,999. In 2018, the highest percentage at 26 percent reported being paid $40,000 to $49,999. Combining the top four pay ranges by percentage, 70 percent of technicians in 2020 are being paid between $50,000 and $89,999. In 2018, 79 percent of techs were paid between $30,000 and $69,999.
This is a huge increase in pay, the probable result of the growing technician shortage in which talented techs can command top dollar for their expertise.
The lack of truck technicians isn't the only reason. Texas Trucks Direct says it has had to give pay increases across the board because of inflation.
Service providers also keep up with the salary market through regularly scheduled reviews and pay increases.
"We evaluate our techs for [pay] enhancements twice a year, in the spring and fall," says David Washbish, president, LASCO Heavy Duty. "Based on performance, comebacks, mishaps and quality of their work, enhancements can increase as much as 5 percent per review."
Stone Truck Parts always keeps tabs on local wage surveys and adjusts pay levels annually, Purcell says.
[RELATED: HDAW session addresses hiring and supply chain difficulties]
In addition to pay, technicians also were asked to choose all the benefits they receive from their employer. In 2022, the options chosen by at least 75 percent of technicians were health insurance (89 percent), paid holiday leave (81 percent), dental insurance (81 percent) and vision insurance (75 percent).
Yet despite these impressive numbers, benefits were actually stronger across the industry in 2018. Sticking with the 75 percent threshold, technicians received more benefits in 2018: health insurance (92 percent); paid holiday leave, dental insurance and IRA or 401(k) (83 percent); vision insurance (76 percent); and life/accidental/ death and dismemberment insurance (75 percent). The least reported benefit in 2022 (not including "other") was profit sharing (12 percent) and in 2018 it was a defined benefit pension plan (15 percent).
Purcell simply says, "all of the above" to the benefits Stone Truck Parts offers. Benefits are the same at LASCO Heavy Duty, with the exception of a defined benefit pension plan.
Cozby says Texas Trucks Direct offers health, dental and vision as well as Aflac-style coverages. The company also offers an IRA option and paid uniforms.
The fact that companies in 2018 offered more benefits than in 2022 is curious. One possible explanation could be service providers have provided take-home pay over ancillary benefits to recruit and retain quality technicians. Our data reported in Part I would seem to confirm this possibility.
But even if that is the case, seeing benefits drop across the industry is curious. With so many job openings across the market, one would assume this wouldn't be the case. Companies might want to reconsider their benefits offerings to stay competitive as employers.
Part 3 of the 2022 State of Diesel Technicians report analysis will examine how heavy-duty technicians look for employment and what they want in a company. It will appear on Wednesday in Trucks, Parts, Service.