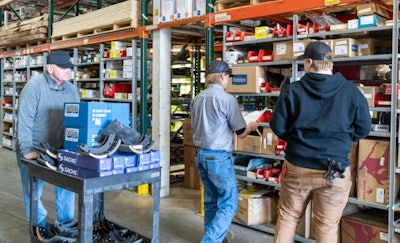 Blaine Brothers
Supply chain issues resulted in a shortage of replacement parts over the past several years. When dealers and distributors were able to find parts, many of them purchased more than they normally would have to increase their safety stock.
Supply chain issues have improved somewhat, and freight demand has fallen slightly. As a result, many dealers and distributors are reassessing their stocking levels especially as rumors of a recession in 2023 are beginning to surface.
Trucks, Parts, Service was curious about the current state of parts inventory in the aftermarket, whether dealers and distributors were returning parts to their suppliers and how market changes would influence their inventory stocking levels.
[RELATED: How dealers and distributors are responding to changing market conditions]
Marc Karon, president and CEO of Total Truck Parts, explains his company anticipated some of the supply chain issues when the shutdowns from COVID were waning. "We ordered a six- to 12-month supply of critical items. We are also fortunate to have multiple sources for most of our key items." He adds because the company is "a brand-focused supplier to our customer base" they have duplicate inventories on many commodities to meet the different requests of its customers. "That duplication has helped us immensely during the worst of the supply chain problems. If one supplier was out of the product, we could often substitute a different brand. The customer was just happy to get something to keep their trucks on the road."
Karon adds while supply chain issues have eased, there are still critical parts that are difficult if not impossible to find — many are engine-related parts.
When supplies were short, Karon says he overstocked but adds that was good business. "Prices were increasing at a double-digit pace so buying excess inventory proved to be a great investment and it proved to boost our profitability."
However, now he is a bit concerned a recession could cause the opposite effect. "If suppliers choose to reduce prices to gain volume, we could be caught with higher priced inventory." As a result, Karon says the company is doing some strategic trimming of inventory.
Blaine Brothers was able to navigate the supply chain issues and keeping parts in stock by doing whatever it took to procure parts for its customers, says Director of Parts Phil Howard. "As the supply chain begins to show signs of improvement, our stock levels will naturally not need to be as high, and we will adjust accordingly."
Kat Guerrero, corporate procurement manager at Rihm Kenworth, says the dealership currently has a surplus of certain items "that now seem to have saturated the marketplace in our territory and seem to be driving a lot of competition among our biggest competitors."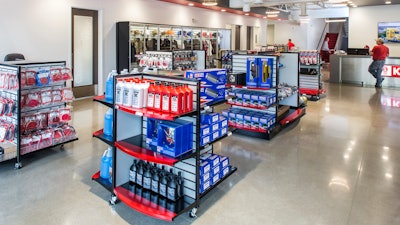 TPS also was curious about what lines or categories of parts dealers and distributors stocked up on during the pandemic, that now are oversupplied.
Howard explains Blaine Brothers has "some decent stockpiles built up," but they are all fast-moving parts so he isn't concerned about the excess. "It's no secret looking at the supply chain in the past couple of years, strategic investments needed to be made even though our suppliers worked diligently to continue to provide parts. However, with that said, we are starting to implement drawdown plans for some of these, for others we are keeping the buffer up for now."
[RELATED: Rihm Kenworth wins 2022 Successful Dealer Award]
Karon says the one category Total Truck Parts overbought was freon. "I am deeply worried the federal government will issue policies that might make this commodity less available."
Guerrero says Rihm's excess inventory is in products that are normally the dealership's top seller but now sales have slowed down for those parts — leaving the dealership with some excess inventory.
So, what are dealers and distributors doing with their excess inventory? Guerrero says Rihm Kenworth has "chosen to retain inventory it has already received but may cancel some existing open orders due space constraints we are now experiencing." Blaine Brothers did restart annual return to vendors "with a focus on switching out non-moving parts with ones we need," Howard says.
Karon says Total Truck Parts is not returning sellable inventory. "Our returns are limited to items we are no longer selling in any of our locations."
One way for a dealer or distributor to keep on top of its inventory is through the use of cycle counts. Karon says Total Truck Parts is cycle counting every day and plans to continue to do so in 2023. Guerrero says that Rihm wrapped up the final store inventory for 2022 in mid-November. That included a physical inventory for all the dealership's locations. "We plan to switch to cycle-counts in 2023 and do away with the complicated task of doing an annual physical inventory," she explains.
Howard also notes parts distributors can't sell from an empty shelf and technician efficiency is impacted by the availability of parts. He believes it is important to have accurate inventory counts because it "is paramount to staying 'a go to business' that customers can rely on.
Finally, TPS asked what would have to happen in the market that would case dealers and distributors to reduce inventory levels.
Howard says he expects overall inventory levels at Blaine Brothers to continue to grow as the company grows. "As the supply chain starts to improve, we are moving our spend toward having a greater breadth of parts and safety stock on fast movers." He adds that they are making sure to invest in the "right parts to meet the needs of our customers and our shops."
Guerrero says Rihm is seeing "a sudden saturation of certain products that we've been having a very hard time keeping in stock over the past year." She adds, "We may need to see a price correction in the industry on these items in order to deal with the inventory surplus that has hit us since about the third quarter of 2022."
[RELATED: OEMs offer update on their 2023 order boards]
Total Truck Parts, like many distributorships and dealerships, services a variety of market segments and Karon explains each segment responds differently to economic issues. "Even in a recession, we do not expect to see a decline in [our repair business]. As a result, we do not expect to trim our inventory on items we sell through the repair shop."
He adds prior recessions have not severely impacted municipal and agricultural fleets purchases — both market segments are part of Total Truck Parts customer base.
"On the other hand, a deep recession will impact the construction segment and we will have to consider the impact of stocking levels of parts related to that segment."
Karon had one final thought. "The one area that would be disastrous for distributors would be dropping prices from suppliers; that would negatively affect distributor profitability."