With the holiday season upon us and 2022 right around the corner, Trucks, Parts, Service is ready to once again count down the most popular products released into the trucking industry's aftermarket and dealer channels this year.
This is the eighth year for the TPS top products countdown, and in the last seven years five companies have earned the top spot on our annual list. Dorman HD Solutions had the most popular parts our first two years, followed by Minimizer, Grote Industries, Snap-on twice and then Milwaukee Tool in 2020. Once again, the companies and products on the TPS annual countdown are determined by reader engagement on this website.
Over the next two weeks, eight companies will be recognized on our countdown, with two companies having multiple products. We will countdown one product per day with our countdown reaching its conclusion on Friday, Dec. 31.
Additionally, while we do have a pair of companies earning double positions on this year's countdown, we also have four companies who have earned placement on our annual list for the first time.
Coming in at No. 10 on this year's list however is a mainstay of the TPS top products countdown — Dayton Parts. After placing second on our 2017 list and eighth last year, Dayton Parts comes in tenth this year with its CARGOMAAX HD shock absorber product line released in May.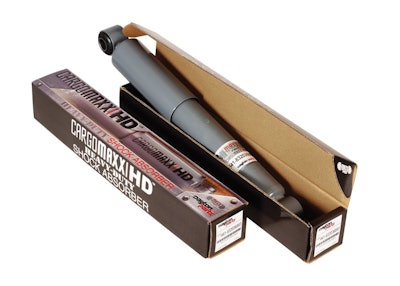 Designed for Class 7 and 8 trucks, Dayton Parts says new product line is equipped with a nitrogen gas-charged system, which provides faster response time to road changes and reduced fade. The line is available in three models (cab shocks, standard duty shocks and steering damper shocks) and is ideal for linehaul trucks, tractors and trailers, as well as vocational and last-mile delivery vehicles, school buses and more, the company says.
"The new shock absorbers are designed for today's advanced suspensions and are road-proven in the most extreme conditions," said Dayton Parts Vice President of Marketing Walt Sherbourne. "They are the perfect addition to our line of CARGOMAXX HD products, further cultivating our portfolio of complete suspension solutions."
To read Dayton Parts' original release in its entirety, please CLICK HERE.
Please check back tomorrow as the TPS Top 10 countdown continues with product No. 9.